Relay Module for GPS
Relay module for solenoid activated shutoffs
Four section relay module
Relay module (circuit breaker for each section)
Power Cord - connect to battery
Cable and connector - plug into planter harness
Signal Cable: Five conductor (18 ga) pigtail (4 ft.) - affix proper plug to accommodate guidance controller.
Relays can adapt to sprayer logic or planter logic.
Two modules are used when 6 or 8 sections are needed.
Module dimensions are 7.6" x 4.3" x 2.3"
Relay pin setting
85 - guidance system ground
86 - guidance system signal
30 - shutoff unit power from battery
87 - power to planter unit - planter logic
87a - power to planter unit - sprayer logic
Signal Cable Color Code
Black
Ground or Power
Red Wire
Section 1
White
Section 2
Green
Section 3
Brown
Section 4
Note: To affix proper plug to Signal Cable 'D' is additional charge
System Check - GPS
Relay Module Signal Retrieving Cable
Standard 6 pin WeatherPak connector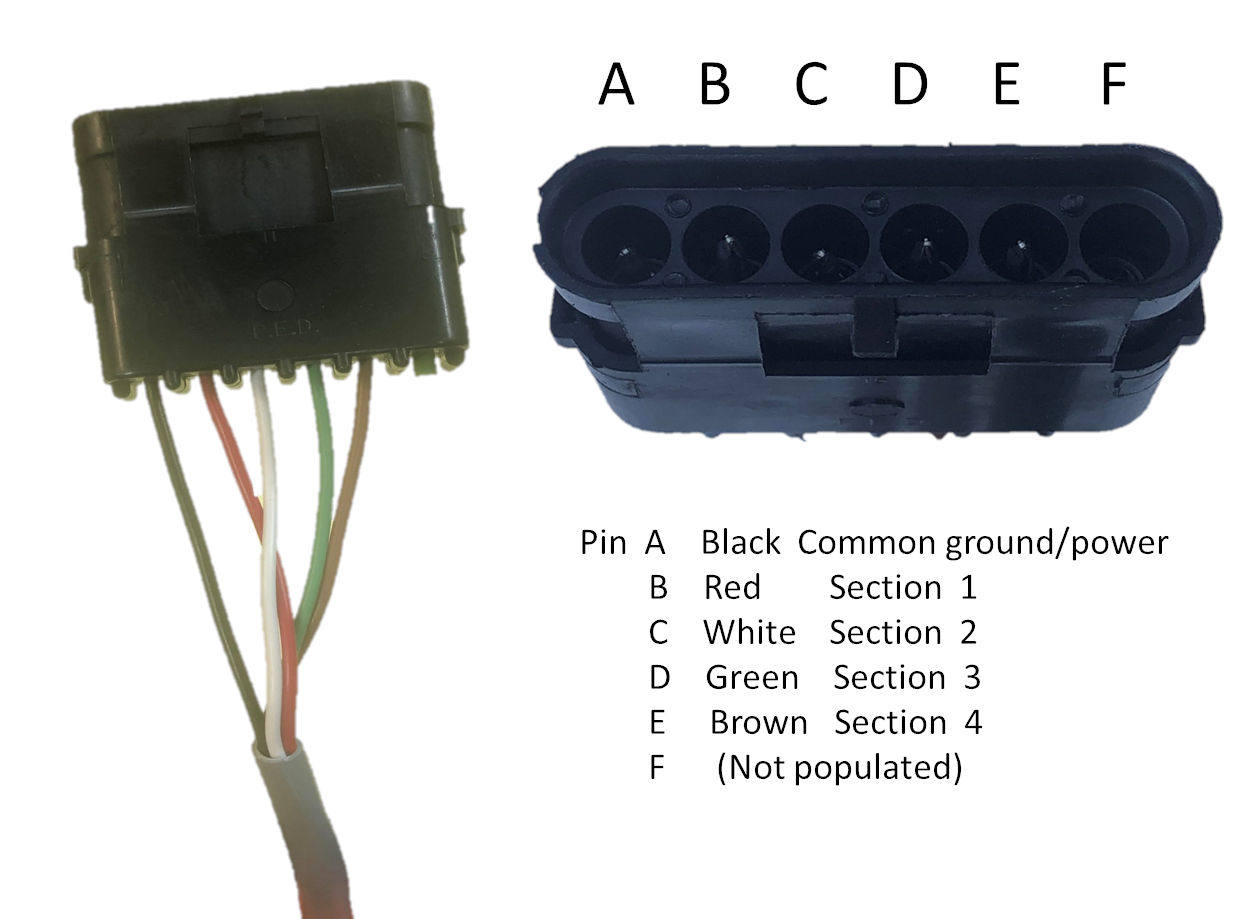 Systems with the standard 6 pin WeatherPak connector on the Signal Retrieving Cable of Relay Module can test the Slectro portion of the shutoff via these steps:
1) Relay module connected to 12V battery, tractor hooked to planter.
2) Find WeatherPak connector of signal retrieving cable of relay module (May have two).
3) Supply 12V DC power to pins A and B to activate section 1.
4) Supply 12V DC power to pins A and C to activate section 2.
5) Supply 12V DC power to pins A and D to activate section 3.
6) Supply 12V DC power to pins A and E to activate section 4.
If all sections respond then Slectro equipment is working properly.
SLECTRO COMPANY
303 Sunset Drive
Beresford, SD 57004
(605) 763-8221
www.slectro.com